Sébastien TOUVRON
Charmain of the Board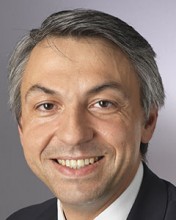 Sébastien serves as President of KREAXI since November 2016. Previously, he served since 2012 as President of Rhône-Alpes Création, a group of investment funds focusing on investing in innovative start-ups based in Auvergne Rhône-Alpes area. In 25 years, KREAXI has become a key player in the financing landscape for early stage start-ups in France.
Before 2012, as Investment Director in the venture capital team of Siparex group (Sigefi Ventures Gestion), he managed 15 investment vehicles (Limited Partnerships, FCPI, SCR) representing 250 m€ with more than 120 companies in portfolio. He invested in various technology based sectors of industry, such as Amoeba, DA-LightCom, Docea Power, Idealec, Meiosys, Mesatronic, Orphan Pharma international (OPi), PX Therapeutics or V3D.
Before, Sébastien joined Sud Partners' team, a GP based in Lyon specialized in venture capital, to invest FCPR Sudinnova II (33 M€) where he served as Executive Committee member during 11 years.
Graduated from BSB (Burgundy Business School), Sébastien started as associate at Rhône-Alpes Création, where he has built a diversified portfolio of young innovative companies, which has set the basis of a Amorçage Rhône-Alpes Fund.
Sébastien is board member of UNICER, a French association lobbying for regional investments in France with more than 20 affiliates.